Camille Anthony

A funny thing happened on the way to the grave...

In 2006, I was diagnosed with Pulmonary Sarcoidosis and given two weeks to live, whereupon I promptly discharged myself against medical advice, since -- as I stubbornly informed the doctors -- I could die at home far more comfortably than at the hospital. Resigned, I prepared to meet my maker but then...

I got an idea for a new story. No way could I check out before finishing it. So I did. Then, another idea came, and another...
Now, three years after the doctors' two week dead-line, I'm still coming up with new story ideas. I figure I've found the fountain of youth. I don't plan on cocking up my toes until I've shared the last story whispering in my mind's ear! My goal is to share my imaginary joys and endless possibilities with you, the reader.
I encourage you to embrace adventure, even if the only journey you undertake is through the pages of a book. Enjoy every moment of this life we're gifted with. Whatever you do, keep reading!
Peace!
Cammy
Visit me at: www.camilleanthony.com for a list of my books and publishers.
---
Natural disasters like floods, fires, and disability often hit without warning, leaving chaos in their wake. When a crisis hits our friends, we all want to help. The online writing community is made up of so many people who come together to share in a neighborhood that exists only in cyberspace. We come to know people like they're members of our family, even if we've never met them in person. Beyond cyberspace, however, reality sometimes intrudes.
Most authors are self employed, and only have health insurance if they maintain their day job, or if their spouses' employer provides family coverage. Even when medical insurance is affordable, sometimes a pre-existing condition may keep an author from being eligible. And then there are the things no one plans for -- hurricanes, fires, floods, and family emergencies.
Originally formed to provide oxygen equipment and assistance with medical bills for our friend Cammy, we've meet and exceeded our original goals, and now reach out a hand to other authors in crisis.
What can you do?
There are several ways you can help.
Checks, made payable to "Save the Quiet Kitty Fund," can be mailed to: PO Box 1046
Martinsburg, WV 25402-1046
To donate medical equipment or supplies, or if you are interested in becoming a corporate sponsor, please email us at CLICK HERE.
To link to us:
(Right click on the images below and save to your computer please. Thanks!)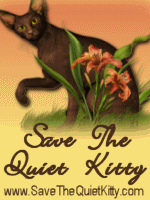 The Changeling Family Cookbook
The Changeling Press authors and staff share their favorites recipes, just in time for the holidays! All recipes in this collection have been donated by Changeling Press authors, artists, and staff members as a fundraiser, proceeds to be donated directly to the Quiet Kitty Fund. Founded in 2006, Save the Quiet Kitty Fund is a non-profit organization dedicated to helping uninsured authors with medical needs. Many thanks to the team that worked so hard to bring this project together. On sale now! Click here!
To let us know about your special needs, CLICK HERE.
THANK YOU!